Purify Every Cubic Foot of Air in Your Home at the Same Time The most important thing to get across about the Guardian Air is its proactive ability to kill germs and reduce odors in the conditioned space. These units don't need the pollutants to travel through the duct work to be neutralized. Every time your fan blows air it carries the purifying power of natures "Friendly Oxidizers" out into the conditioned space where the "Friendly Oxidizers" begin to attack the Bacteria, Virus, Mold Spores at the source and reduce odors in your home.

Take the human sneeze as an example. Germs come out with a sneeze at 100mph. With the Guardian Air REME installed, 88% of the germs in a sneeze were neutralized before the germs could make it 3 feet.The Guardian Air will reduce or eliminate:· Smoke odors · Cooking odors · Pet odors · Trash odors · "Musty" or Stale Air smells · Formaldahyde · Paint odors · Chemical odors In addition, RGF technology, because of its ability to kill bacteria and virus on surfaces and in the air, have been specified in the Norovirus/MRSA protection plan of America's largest restaurant chains, hotel chains, theme parks, cruise lines, public schools and hospitals. Testing the guardian air has shown a 99% reduction of H1N1 virus on Stainless steel surfaces, 98% reduction of MRSA, a 99% reduction of Norwalk Virus, a 97% reduction of Mold Spores, even a 99+% reduction of SARS and Avian Flu.

HOW DOES IT WORK?

The Guardian Air is installed as part of your home's central heating and cooling system.completely out of your way and out-of-sight. That means each and every time your system runs, the Guardian Air produces naturally occuring oxidizers that travel through the conditioned air space in your home or office and kills bacteria, viruses, mold, gases and odors.

Watch news story.
HOW DOES RGF'S PHI COMPARE TO UV LIGHT TECHNOLOGY AND OTHER AIR CLEANERS The main difference with UV light systems and whole-home air cleaners is that they are passive systems. The germs and particulates have to make it to those systems in order for them to work. How does that protect you from somebody coughing or sneezing in a room? How does that protect you if the germs attach themselves to an object – like a cup or another person? The Guardian Air is an active system. It generates oxidizers that travel through the conditioned building space and proactively kill germs before they have a chance to spread. For example, in an independent sneeze test, the Guardian Air was proven to kill 78% of bacteria within three feet of the sneeze. The bacteria was killed before it had a chance to infect somebody else.

More Info.
---

BLU QR® UV Stick Lite uses the natural power of ultraviolet light to control airborne allergens and microorganisms — bacteria, viruses and mold growth on HVAC interior surfaces.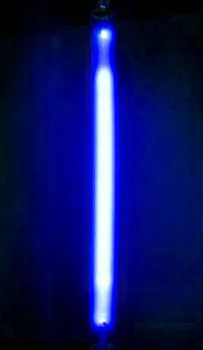 Keeping your HVAC coils clean from mold and mildew growth is easy with RGF's latest development in their IAQ product line! The all new economical patent-pending, high quality BLU QR® UV stick light has unique features including our exclusive quick-release lamp, which requires no tools for the lamp replacement. It comes standard with four easy-to-install mounting options right in the box, including the magnetic mount, through panel mount, bracket mount and direct mount. RGF's BLU QR® is undoubtedly the premier UV Stick Light technology and is far superior to anything offered in the industry today.
​
The patent-pending BLU QR® economically provides UV light disinfection and protection to the AC coil surfaces from bacteria, virus, mold and mildew growth and odor. This results in a cleaner and more efficient energy-saving system.
More info.
---
Contact us for more information 561-833-8861 or 561-Cold Air
Air Handler, Blower Motor, Evaporator Fan Motor, Variable Speed Fan Motor, Blower Wheel, Blower Assembly, Evaporator coil, TXV valve, Fan Blade, Fuses, Expansion Valve, Control Board, Circuit Board, Electric Heater, Heat Strip, Fusible Link, Driers, Refrigerant Drier, Liquid Line Drier, Breaker, Condensate Pump, Drain Line Piping, Duct Work, Float switch, Emergency Overflow Safety Switch, Reversing Valve, Condenser, Condenser Coils, Condenser Fan Motor, Compressor, capacitor, Contactor, Hard Start Kit, Sequencer, Start Relay, Fan Relay, Time Delay Relay, Disconnect Box, Transformer Zone Damper, Thermostat, 410A, R22, Humidifier, Dehumidifier, Frozen Coils, Plugged Drain Line, Coil Cleaning, Heat pump, Iced coils, Split System, Straight Cool, SEER, Ac, a/c, line pull, refrigerant lines, water leak, electronic leak search, leaking coil, air conditioning water leak, air conditioning condensation, sweating refrigerant lines, water source heat pump, central air conditioner, central ac unit, air conditioning system, straight cool system, BBB, air conditioning contractor, building pro, indoor air quality, custom filters, ac filters, ac parts, a/c parts, air conditioner parts, install new air conditioner, online ac quote, free estimate for ac, 24 hour ac serivce, around the clock service, emergency ac service, home ac, residential air conditioner, business air conditioner, commercial air conditioner, commercial ac, residential ac, air repair, ac repair, air conditioner repairs, ac service, air conditioner repairs, a/c repairs, coil replacement, compressor replacement, pool heater repairs, iced coils, train air conditioner, rudd air conditioner, get a rheem, reliable ac service, free ac estimates, humidistat, dehumidistat, air conditioning installation, install new ac, energy efficient air conditioner, puron, ac contractor, new ac, return vent, plenum, supply vent, ac registers, ac grill, replacement grills, air conditioner filters, special order filters, coil pull and clean, replacement filters, ac drain pan, mold in duct work, primary drain, energy federal tax credit, air conditioning technician, ac service tech, cheap air repair, central air, central ac, replacement ac units, Jupiter air, Jupiter Tequesta air, air conditioning equipment, air conditioning company, air conditioning dealer, HVAC services, heating repair, heater repair, heating and air, FPL rebate, ductless units, UV Light, Ultra Violet Light, duct sanitize, home air repair, free ac service call, ac repair west palm beach, air conditioning west palm beach, a/c repair west palm beach, ac repair wpb, programmable thermostat, local air repair, licensed ac contractor, air conditioning rebates, ac parts for sale, air conditioner parts for sale, plugged ac filter, air conditioning boca raton, air conditioning Boynton beach, air conditioning lake worth, air conditioning juno beach, air conditioning Loxahatchee, air conditioning Wellington, air conditioning royal palm beach, air conditioning delray beach, air conditioning palm beach, air conditioning lantana, air conditioning north palm beach, air conditioning palm beach gardens, air conditioning palm beach county, manual j, heat load calculations, air repair boca raton, air repair Boynton beach, air repair Jupiter, air repair palm beach, zone damper repairs, ac zoning, fire dampers, fresh air damper, tstat, air conditioning and heating, ac sales, local air conditioning repair, air conditioning prices, air conditioning sizing, air conditioning brands, air conditioning systems, air conditioning sales, air conditioning replacement, air conditioning supplies,